Single crystals
Submit a Sample
You would like to submit a single crystal sample to be measured by the X-Ray facility? Contact one of our scientists, we will find a solution! 
To process your request successfully, we need some information from you:
Please do not dry your crystals! Leave them in their mother liquor. 
Close your flask tightly to prevent solvent evaporation. Parafilm is useless!
Your telefone number and email adress
A sample name
a proposed structure
a brief description of the synthetic route and all solvents used
is the compound unstable against air or temperature?
should the absolute structure be determined? (e.g. for chiral compounds)
are there any special needs?
Download X-ray oder form
Diffractometer Overview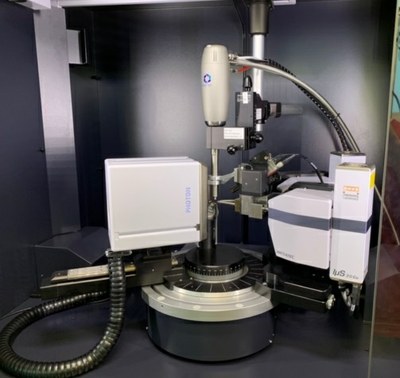 Bruker D8 VENTURE
Type:
3-circle diffractometer with PHOTON III HPAD detector.
Samples:
Single crystal (0.005 to 0.10 mm), unstable samples can be processed
Source / optics:
Mo iμS microsource sealed tube with mirror optics
Cu iμS microsource sealed tube with mirror optics
Accessories:
Sample preparation: 
Polarizing microscope (with camera), vacuum line, low-temperature mounting device
Measurement: 
Crystal cooling (Oxford Cryosystems Cryostream 800 @ 80 - 400 K), centering microscope (camera), detector distance can be adjustedTypical application:Single crystal structure determination (small molecules & small proteins), routine, high angle & precision measurements. Absolute structure determination.
Responsible Operator:
Dr. Daniel Kratzert
Institut für Anorganische und Analytische Chemie
Additional information:
Technical specs
---

Bruker SMART APEX II Quazar
Type:
3-circle diffractometer with CCD detector
Samples:
Single crystal (0.05 to 0.30 mm), unstable samples can be processed
Source / optics:
Mo iμS microsource sealed tube with mirror optics
Accessories:
Sample preparation:
Polarizing microscope (with camera), vacuum line, low-temperature mounting device
Measurement:
Crystal cooling (Oxford Cryosystems Cryostream 800 @ 80 - 400 K), centering microscope (camera), detector distance can be adjustedTypical application:Single crystal structure determination (small molecules & small proteins), routine, high angle & precision measurements
Responsible Operator:
Dr. Daniel Kratzert
Institut für Anorganische und Analytische Chemie
Additional information:
Technical specs (detector)
Application note (microsource
Technical specs (crystal cooling)

---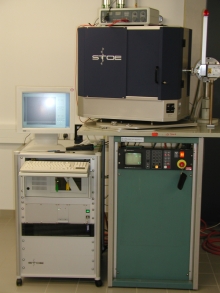 Stoe IPDS II
Type:
2-circle diffractometer with large-area image plate detector
Samples:
Single crystal
Source /optics:
Molybdenum sealed tube with standard graphite monochromator and X-ray wave guideAccessories:Sample preparation: Polarizing microscope (with camera)
Measurement:
High temperature attachment, centering microscope (camera)
Typical application:
Single crystal structure determination (solid state compounds & small molecules), routine measurements
Responsible Operator:
Dr. Thilo Ludwig
Institut für Anorganische und Analytische ChemieAdditional information:
Technical specs